17th April, 2020
The BEST Audio Interfaces in 2021 for Recording & Production

If you're recording podcasts, streaming, or doing any kind of music production on either a Mac or PC; an audio-interface will be an essential part of your home or studio set up. But with so many audio interfaces saturating the market, how do you know which one is best for you? At the end of the day, it's all a matter of preference, with a few important factors to take into consideration. Including what your intended use is, required inputs and outputs, budget, and DAW/Software of choice.
But firstly, you need to understand what an audio interface is exactly, and why you need one!

What is an Audio Interface
Audio Interfaces are widely regarded as the brains of your studio. Connecting to your PC, Mac, or even an iOS device and providing you with high-quality sound recordings and playback. Not to mention giving you a variety of inputs and outputs that aren't otherwise typically found on your computers internal sound card. Therefore, allowing you to connect your professional microphones, instruments, studio monitors, and other signals to your computer. Increasing both the sound quality of your computer as well as the signals that are being recorded.
To put it simply, an audio interface gets audio into and out of your PC or MAC. Turning your analog audio signals into digital information and vice versa using AD/DA converters. The higher quality your converters, the better your interface will perform. Thus, impacting the price.
Another consideration that will have an impact on price is the number of connections. Generally speaking, your audio interface will feature both microphone and line inputs. Microphone inputs typically accept 3-Pin XLR cables, while a line input will mostly accept Jack or RCA. Typically used for instruments such as synthesizers, drum machines, and DJ Mixers.

Choosing an Audio Interface: Buying Advice
Inputs & Outputs
One of, if not the biggest factors you'll face when choosing an audio interface is the number of inputs and outputs (often referred to as I/O). Directly correlating with the price, cheaper audio interfaces generally feature fewer inputs and outputs. That being said, if you're a bedroom producer who only needs connections for your speakers and up to a couple of microphones and instruments; then a small, desktop 2-in 2-out audio interface is sure to do the job.
Its also important to note, if you're using a condenser microphone that requires Phantom Power. You'll want to make sure that the audio interface you choose has Phantom Power onboard. Thankfully, most already do, so this is unlikely to be an issue.
However, if you're in or going to be recording a larger band with several separate microphones; you're going to need an interface with a lot more I/O. Likewise, if you're going to be DJing with your computer, you'll want to choose one with at least four line-level outputs. Two outputs used to send your stereo mix to the house system, while the other two outputs are used to privately cue songs. Even some electronic drum kits require separate channels for each instrument. So you might even need up to 8 separate inputs if that's the case.
All things considered, this Top 10 list is aimed more towards the bedroom and small studio producers. Those who won't be looking for a tonne of I/O, but still want to achieve top-notch sound quality.
Types of I/O
When you're counting the input and output channels on an interface, it's important to look at exactly what type of inputs they're offering. As manufacturers could potentially be referring to any number of input types. To clear things up, most of the time they'll be referring to any combination of the following inputs.

Connectivity
When it comes to connectivity, the right choice for you again depends on your specific needs. USB Audio Interfaces remain the most popular, although they don't sport the fastest connection. That being said, unless you're going to be recording several instruments and microphones simultaneously; then a USB connection is going to perform just fine. So if you're on a budget, I'd definitely recommend picking up one with a USB connection!
However, if you are looking for something that's going to give you even faster performance and zero latency; then a Thunderbolt interface will be able to give you significantly better results. Although keep in mind, it will end up costing you considerably more than your standard USB Audio Interface. Whichever connection you choose, remember to ensure your computer is fitted with the required connection.
The Connectivity Breakdown
USB – USB Audio Interfaces are the most common, connecting directly into your USB 2.0 or USB 3.0 socket. As well as compatible with almost all computers.
Thunderbolt – Thunderbolt Audio Interfaces are the next most popular. Most favourable due to significantly faster speeds and performance. Ideal for Mac users.
Firewire – Firewire is an older Mac connection that was a faster option. Less compatible these days and not as quick as Thunderbolt.
PCIe – These connections are usually found on internal and rack-mountable interfaces. Fast, powerful, and reliable, although it comes at a cost!
Budget
Another consideration, and probably the main one on your mind, is budget. If you're just getting started as a producer, it just doesn't make logical sense to blow upwards of $1000 on something as insignificant in your learning process as an audio interface. However, if you're a bit more advanced, you might be considering spending the few extra dollars (or hundreds of dollars); and getting something that delivers audio quality that rivals the best of the best.

Software Compatibility
Finally, when choosing your Audio Interface, you're going to have to make sure that it's compatible with your DAW or music production software of choice. Although most audio interfaces these days are guaranteed to work with almost all DAW's on the market, it's definitely something worth double-checking! This type of problem is more typical with higher-level interfaces. Where the hardware is specifically designed around a particular recording software.
Furthermore, if you haven't yet settled on a DAW, but you've seen one that takes your liking. It might be worth your money opting for an interface that comes complete with at least a basic version of that particular DAW. Therefore, saving you money. All while giving you a first-hand experience of the DAW so you can decide if it's worth your money upgrading to the premium version.
Extras
Above all, the main things that will determine your purchase decision will be its connection, and the number of I/O. But it's also important to factor in the little extra things as well.
Size: How big is the unit? Are you limited to desk space, or need it for on-the-go recording? Then you're probably not going to want to carry around a big and heavy interface!
MIDI: Does it double as a MIDI interface so you can control your MIDI hardware? Do you need it to?
DSP: Can you use it to save CPU on your computer
Looks: Does it look nice? Will it complement your studio or desk setup?
Software: Does it come with plugins, samples or DAW software that you'll actively use.
The Best Audio Interfaces in 2021
Behringer UM2

PROS:
Under $100 – Can't go wrong for the price
Accommodates recording of 1 instrument and or 1 microphone
Ideal for podcasting, live streamin, and conference call applications
CONS:
Lacking TRS Outputs for studio monitors
Only one microphone input limits the option for guests on your podcast
Best Budget/Entry Level Option
Writing this article in the midst of a global pandemic, many of you might be reading this looking for a quick and easy, cheap solution for audio recording. Whether you're planning on recording a podcast, live streaming, teaching/working from home, or getting started with music production; you don't necessarily have to spend hundreds of dollars to get good quality sound! That's especially the case with the Behringer UM2 and it's no wonder it's our best selling interface.
Featuring a single XLR input on the front, the UM2 also boasts built-in phantom power. So you'll have no trouble connecting any one of your XLR microphones whether it be Dynamic or Condenser; making it perfect if you're looking to start a high-quality podcast, live stream, or zoom conference call. There's also a front-panel 1/4″ instrument input with its own dedicated level control so you can record your guitar at the same time as your vocals for example.
When it comes to outputs, the UM2 features two RCA inputs on the back. As well as an additional headphone jack that also supports direct monitoring. So you'll be able to accurately monitor your recordings and ensure your audio sounds immaculate at all times!
If you're more advanced in terms of audio recording and music production, we wouldn't recommend opting for the UM2. As it's likely you'll require inputs that support a number of additional devices and studio monitors. However, if you're just looking to dip your feet into audio recording, the UM2 is an excellent choice!
Motu M2 & M4 – Best Value
Connectivity: USB-C | Inputs: 4 | Outputs: 4 | Audio Resolution: 44.1Hz to 192 kHz | Dynamic Range: 120dB

PROS:
More than enough I/O for most!
Full-Coloured LCD Screen
120dB dynamic range on the DAC is a new level for
CONS:
Bare bones design, not the most stylish
Both the Motu M2 and M4 bring serious bang for their buck considering the affordable price point. Offering best-in-class audio quality, speed (ultra-low-latency), and best-in-class metering with a full-coloured LCD. Allowing you to record vocals, instruments and other audio sources quickly and easily. The M2 gives you 2-ins and 2-outs, while the M4 gives that extra bit of connectivity with 4 of each.
Even more impressive, the M2 & M4 offer an astonishing 120dB of dynamic range. That's something that you'd ordinarily only find in high-end audio interfaces that cost thousands of dollars. Not to mention the ESS converters in the headphone output that rival expensive headphone amps. As well as ultra-clean preamp circuits that let you capture with pristine quality. Plus, featuring state of the art USB drivers, you'll enjoy class-leading ultra-low 2.5ms Round Trip Latency. Providing unmatched speed for monitoring your microphone and instruments through your computer.
Overall, the Motu M2 & M4 are both extremely good value audio interfaces for your home or budget studio. Enjoy low-latency and professional-quality audio from your recordings!
Features
USB-C Audio Interface
Best In Class Speed
Best In Class Audio Quality
As well as best In Class Metering
Loopback Live Streaming
Focusrite Scarlett Series
PROS:
Great value for beginners
High Quality Pre-Amps
Complete with Focusrite plug-in bundle
CONS:
Bigger models aren't bus-powered
If you're looking for a quality audio interface that's going to give you your best value for money. You really can't go past the Focusrite Scarlett series. One of, if not the biggest names when it comes to interfaces, Focusrite has been leading the way for years. In particular, the Scarlett 2i2 offers more than enough I/O for many small producers. So you'll have no problem hooking up your studio monitors, as well as up to two microphones or instruments for simultaneous recording. Both of which boast Phantom Power for powering all your condenser microphones.
A compact 2-in, 2-out USB audio interface, the Scarlett 2i2 offers Focusrite's renowned professional sound quality with 24-bit/192kHz converters. Including the latest and greatest microphone preamps, as well as moving to a USB Type-C connection. What's more, each version of the Scarlett series comes complete with a bundle of software and plugins. So you'll have everything you need to get started recording straight away.
Finally, although they're definitely built to last, Focusrite's massive 3-year warranty gives you that extra piece of mind!
Features
Up to 24-bit/192kHz Recording Quality
Analog Inputs: 1 x XLR (mic), 1 x 1/4″ (Hi-Z)
Analog Outputs: 2 x 1/4″ TRS
High-performance 24-bit/192kHz converters
Upgraded 3rd-generation Scarlett mic preamp
Switchable Air mode gives your recordings a brighter, more open sound
High-headroom instrument input for bass, guitar, or synths
Unique, intuitive halo level indicators for optimized gain staging
Super-low latency lets you monitor with native plug-in effects in real-time
Direct Monitor circuit for monitoring your input with guaranteed low-latency
Balanced TRS L/R monitor outputs with level control
Headphone output with independent level control
Included software bundle
SHOP: Focusrite Scarlett 2i2 3rd Gen

Steinber UR22C

PROS:
Great value for beginners
High Quality Pre-Amps
Complete with Focusrite plug-in bundle
CONS:
Bigger models aren't bus-powered
Similar to the Scarlett 2i2, the Steinberg UR22C is another compact 2-in/2-out audio interface. Offering amazing sound quality, whilst housed in a compact, durable, and versatile package. What's great about the UR22C is that not only does it integrate seamlessly with your PC or Mac. But it also connects easily to your iOS devices using the SuperSpeed USB Cable. So combine it with the mobile version of Cubase, and you've got yourself a recording setup wherever you may be.
When it comes to sound quality, the UR22C doesn't disappoint. Offering 32-bit/192kHz recording quality that will provide you with stunning clarity and detail. As well as featuring two top of the range mic preamps and even MIDI in/out. Both of which can utilize the onboard phantom power. So again, most beginner producers will have no problems connecting their entire home studio set up to this rig.
Finally, the UR22C comes complete with a copy of Cubase compatible with both your computer and iOS. So you'll be recording professional-quality audio straight out of the box.
Features
Analog Inputs: 1 x XLR-1/4″ combo (mic/line), 1 x XLR-1/4″ combo (mic/line/Hi-Z)
Analog Outputs: 2 x 1/4″ TRS (main out)
MIDI I/O: In/Out/USB
32-bit/192kHz Recording Quality
Windows, macOS, and iOS cross-platform compatibility for superior flexibility
Class-A D-PRE microphone preamps with +48V phantom power
Dual combination inputs support instruments and mic connections
USB 3.0 to USB-C connector can connect to most modern devices
Latency-free monitoring has mix balance controls
MIDI I/O allows you to synch with outboard hardware
Separate headphone level control
Switchable power source: USB 3.0 or 9V DC
Native Instruments Komplete Audio 2
Connectivity: USB 2 | Audio resolution: 24-bit/192kHz | Analogue inputs: 2 | Analogue outputs: 2 | Digital connectivity: None | MIDI I/O: No

PROS:
Most stylish on the list
Compact Design
Includes MASSIVE software bundle
CONS:
No scaling on the controls
The Native Instruments Komplete Audio 2 gives you a beautifully designed 2-channel audio interface. Sporting a 2-in, 2-out design, the Komplete Audio 2 features two identical mic/line/inst inputs. Saving space by using combi XLR inputs that allow you to easily switch between line or instrument. Then, when you want to power your condenser microphones; Phantom power can be enabled with a simple flick of the switch. There's also a massive button for easily manipulating the overall volume. As well as a separate headphone output with its own independent control.
Robust, compact, and easy to transport while having no compromise on quality. Offering high-res recordings of up to 24-bit/192kHz wherever you are, and perfectly compliments the NI range.
Finally, one of the best complements to this interface is its included software package. Perfect for kickstarting your production, you'll get access to Ableton Live Lite, Maschine Software, a select variety of plugins, and thousands of samples!
Features
USB 2.0 Computer Interface
2 x Mic Preamps with 48V Phantom Power
Up to 24-Bit / 192 kHz Resolution
2 x XLR-1/4″ Mic/Line/Instrument Inputs
1/4″ Monitor Outputs with Level Control
1/4″ Headphone Output with Level Control
Direct Monitoring with Adjustable Mix
Dual 5-Segment LED Input Meters
Includes Robust Software Collection
Mac & Windows Compatible
SHOP: Native Instruments Komplete Audio 2

Behringer UMC202HD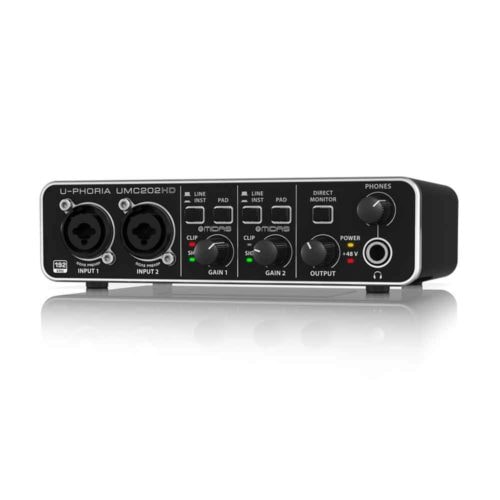 PROS:
Basic Design
MIDAS pre-amps
CONS:
Lacking software inclusions
For an interface under $200, the Behringer UMC202HD is a great budget choice. Offering a 192kHz sample rate with 24-bit converters, you're sure to notice an upgrade in your audio quality. Featuring 2x high-grade MIDAS pre-amps, selectable A/B monitoring outputs, and MIDI in/out ports; you're certainly getting bang for your buck! You're not getting as big of a software package as some of the other audio interfaces on this list. But if you're already sorted in the way of DAW's and Plug-Ins, it's definitely an option to consider!
2×2 USB2.0 audio interface for recording microphones and instruments
Audiophile 24-Bit/192 kHz resolution for professional audio quality
Compatible with popular recording software including Avid Pro Tools*, Ableton Live*, Steinberg Cubase*, etc.
Streams 2 inputs / 2 outputs with ultra-low latency to your computer, supporting Mac OS X and Windows XP or higher
2 state-of-the-art, MIDAS designed Mic Preamplifiers with +48 V phantom power
Zero-latency direct monitoring while recording
Powerful Phones output with Level control and Direct Monitor select
Status, Signal and Clip indications for perfect overview
USB port for connection and power
"Built-like-a-tank", impact-resistant metal chassis
High-quality components and exceptionally rugged construction ensure long life
Arturia AudioFuse
Connectivity: USB 2.0 | Audio resolution: 24-bit/192kHz | Analogue inputs: 4 | Analogue outputs: 4 | Digital connectivity: ADAT I/O and S/PDIF I/O | MIDI I/O: Yes | USB Hub: 3-Ports

PROS:
Packed with Inputs and Outputs
CONS:
The Arturia AudioFuse is an audio interface that packs a whole heap of connectivity into its compact form factor. At the front of the interface, you've got 2 combi inputs that can accommodate both mini-jack and 1/4″. As well as 2 independent headphone inputs.
Then, at the back of the interface, you've got enough speaker outputs for two pairs of monitors. As well as
At the back, there are speaker outputs for two pairs of monitors, line-level connectors, MIDI In/Out ports (which, due to size restrictions, have been replaced by mini-jack connectors, which you'll find in the box) and – for digital interfacing – both S/PDIF and ADAT In/Out. There are also inserts for inputs 1 and 2, allowing you to track through hardware compressors or channel strips.
AudioFuse connects via USB 2, but USB connectivity goes further; Arturia has built a USB hub into it, providing three extra USB ports. AudioFuse provides a beautiful and contemporary approach to USB audio interfacing with a great design, compatibility with a huge range of possible audio sources, a great sound, and a highly tactile control set.
Features
2 DiscretePRO microphone preamps
2 RIAA phono preamps
4 analog inputs:

– 2x Mic/Instrument/Line (XLR / 1/4″ TRS)
– 2x Phono/Line (RCA / 1/4″ TRS)

4 analog outputs (1/4″ TRS)
2 analog inserts (1/4″ TRS)
ADAT and S/PDIF in/out
Word clock in/out, MIDI in/out
24-bit next-generation A-D/D-A converters at up to 192kHz sampling rate
Analog soft-clipping option
Talkback with a dedicated built-in microphone
A/B speaker switching
Direct monitoring
Separate master and monitor mix channels
USB interface with PC, Mac, iOS, Android and Linux compatibility
3-port USB hub
Classic Silver aluminum chassis, hard leather-covered top cover
Apogee Duet iOS 2×4 USB Audio Interface

PROS:
Extremely Portable
Seamless integration with iOS devices
Stylish finish
CONS:
Requires a separate breakout box for XLR/TRS I/O
A super-portable USB Audio Interface, the Apogee Duet is the ideal companion for your iOS device. Completely compatible with both Windows 10 and iOS, it also offers a direct lightning connection so you can easily connect and charge your Apple device. Without the need for any inconvenient cables or adapters.
So combine portability, USB power, and high quality, and you've got the ideal solution for recording on the go!
Features
2-in/4-out USB audio interface for Mac/PC and iOS devices
Apogee quality, 24-bit/192kHz next-gen AD/DA converters
1/4″ headphone jack
Color OLED display offers visual feedback
Charges your iOS device while you work
2 configurable touchpads to improve your workflow
Includes breakout cable with 2 XLR/TRS combo inputs and 2 TRS outputs
Universal Audio Apollo Twin mkII
PROS:
Amazing audio quality
Renowned UAD Plugins
Stylish finish
CONS:
Thunderbolt cable not included
Requires mains power
No MIDI connections
The Universal Audio Apollo Twin mkII is a 2-in/6-out interface with 24-bit/192kHz audio quality. Connecting via Thunderbolt connection, although there's no cable included with the unit and it needs to be connected to the wall! You'll find all the ins and outs conveniently located on the back and front edge of the unit, while the top panel is dedicated to a convenient, massive volume knob.
Not only does the Apollo Twin mkII give you loads of connectivity and amazing audio; it's also a DSP box for powering the renowned UAD plugin effects. Powered by the same high-quality Unison preamps as previous models.
Above all, the Universal Audio Apollo Twin mkII is a high-quality audio interface that will elevate your home or project studio into a high-level professional studio. Definitely one of the best audio interfaces money can buy!
Features:
Thunderbolt audio interface for Mac with two analog inputs, four analog outputs, and eight channels of ADAT input
Sounds amazing, with next-generation AD/DA for maximum fidelity
Use outstanding UAD Powered Plug-ins for tracking and mixdown
Preamps sound pristine, and Unison technology gives you spot-on emulations of classic preamps
Includes Realtime Analog Classics plug-in bundle with accurate emulations of vintage analog hardware
Thunderbolt gives you ultra-low latency and huge bandwidth for higher sample rates and track counts
Compact design makes it perfect for mobile recording, mixing outside of your studio, and even performing live
Hands-on control over your monitor outputs
Cascade up to 4 Thunderbolt-equipped Apollo interfaces and 6 total UAD devices
SHOP: Universal Audio Apollo Twin mkII

Apogee Symphony Desktop 10×14 Audio Interface
PROS:
Impressive touch screen interface
Amazing Sound Quality
DSP Plugins
Stylish finish
CONS:
Unique shape might not suit all desk spaces
The Apogee Symphony Desktop audio interface certainly packs a punch! A sure contender to take over the notorious Universal Audio Apollo series. Ideal for more advanced producers, the Symphony Desktop combines Apogee's flagship sound quality, vintage mic preamp emulation, and hardware DSP with premium plugins. Not to mention an immersive touch screen interface.
Designed for Mac, iPad Pro, and Windows, the Symphony Desktop packs the renowned sound quality of the rack-mound Symphony I/O into a 10×14 audio interface. Elegant and inspiring, the Symphony Desktop not only sits nicely on your desk but is easy enough to carry in your bag. All with the industry's most respected AD/DA converters and mic preamps.
Symphony Desktop is sure to amplify your creativity whether you're in the studio or on the go. Giving your recordings that sought-out Apogee sound quality advantage.
Features
Flagship Symphony Sound Quality
10 IN x 14 OUT simultaneous channels of audio
Cutting edge components and circuit design deliver detailed and pristine sound quality
A/D & D/A Resolution up to 24bit/192kHz
2 Advanced Stepped Gain mic preamps, up to 75dB of gain, variable impedance
Apogee Alloy Mic Preamp emulation (Analog processing + DSP modeling)
1 Instrument input with variable impedance and colored FET input stage for electric guitar
Analog Inputs: 2 x XLR-1/4″ combi (mic/line), 1 x 1/4″ (Hi-Z)
Analog Outputs: 2 x 1/4″ (monitor)
2 assignable headphone outputs: 1 x 1/4″, 1 x 1/8"
Digital I/O: 2 x Optical Toslink (ADAT,S/PDIF)
Computer Connectivity: USB over type C Connector
Dynamic touch screen display for comprehensive hardware control
SHOP: Universal Audio Apollo Twin mkII

RME Fireface UFX II FireFace
Another high-end audio interface, the RMX FireFace UFX II is a premium USB interface with 30-in/30-out channels of crystal clear audio. Offering resolutions of up to 24-bit/192kHz, as well as featuring 4 digitally controlled preamps, reference-class AD/DA converters, ultra-low latency operation, and exceptional driver stability.
The RME FireFace UFX II is ideal for high-end home studios and even commercial audio production facilities.
Features
30-in/30-out USB audio interface
Top-shelf AD/DA converters, optimized analog circuits, and impressive SNR deliver crystal clear, transparent audio
Analog, ADAT, AES, S/PDIF, and USB 2 connectivity integrates into any production environment
4 pad-free mic circuits yield +18dBu of maximum input level and 75dB of gain
Low impedance, high power headphone outputs provide superior monitoring
DURec port captures audio directly to a thumb drive
Integrates with RME's optional ARC USB remote controller
SHOP: RME Fireface UFX II FireFace
People Also Ask
What are the best audio interfaces for audio quality?
If the price isn't an issue and you're purely looking for quality, you can't go past the line of Universal Audio Apollo Interfaces. Offering incredibly high quality, you'll find these in professional studios all over the world and for good reason.
What are the best audio interfaces for professional studios?
If you're setting up a professional studio, you have a number of options for high end audio interfaces. Some of the best include:
Which are the best audio interfaces on a budget?
If you're on a budget, you don't need to break the bank to get yourself a high-quality audio interface. Some of the best budget audio interface options include:
Which are the best audio interfaces for Macs?
If you're looking for a Mac-specific Audio Interface, the Universal Audio Thunderbolt range offers a great selection that will work seamlessly with Mac OS. But any of the aforementioned audio interfaces should also work with your Mac. Including the Focusrite Scarlett 2i2, Behringer UMC404HD, Motu M2, or Steinberg UR12.