2nd November, 2020
The Best Christmas Gifts for Music Lovers, DJs & Producers
Christmas is fast approaching, and you're yet again faced with the difficult task of "What do I get for Christmas!?". We feel your pain, so we've compiled this list of the best gifts for music lovers to help!
Whether you're buying for a budding DJ, music producer, musician, looking to learn an instrument, starting a podcast, or looking for something the whole family can enjoy; you're sure to find something on this list to suit.
MPK Mini MK3
Great gift idea for: Music Producers

Whether you're looking to get started with producing, or you're a seasoned professional just looking for a portable option. The MPK Mini MK3 is a class above when it comes to 25 key MIDI controllers and really takes a step up from the previous version that was already a standout controller.
Akai has not only upgraded the keybed to make it feel more piano-like, but they've replaced the pads with ones straight off the popular line of MPC's which makes a massive difference. So you're getting a much better feeling when you're finger drumming or calling samples.
On top of that, the MPK Mini MK3's 8 knobs have been upgraded to endless knobs. Allowing you to dial in the perfect sound, while also being much more durable and premium-looking. There's even an accompanying OLED display which shows you the BPM you're working at and the values of the parameters you're tweaking.
All in all, the MPK Mini MK3 is an affordable MIDI controller that will be a welcomed addition to any home or professional studio. You can't go wrong for the price, and we've got an exclusive White edition that you won't find anywhere else in Australia. Check out the video below for a more detailed look!
Vonyx Studio Microphones
Great gift idea for: Singers, Gamers, Podcasters, Online Meetings

Whether you're buying for singing, gaming, chatting, web hosting, podcasting, voiceovers, or online meetings; the new range of USB studio microphones from Vonyx offer the perfect solution to take a step forward in audio quality without having to spend a fortune.
For under $100, you're going to have everything you need to make high-quality recordings straight out of the box. If you prefer the flexibility of an adjustable table arm, the CMS300 kits have one included. While the CM300 kits have a foldable tripod stand for getting the perfect placement on your desk.
Finally, they all come with their own shock mount, pop filter, and USB cable. So you're ready to take advantage of these value-for-money plug-and-play studio mics!
With online meetings the new normal and at such a good price, you can't go wrong buying one of these microphones for any of your loved ones!
Teenage Engineering Pocket Operators
Great gift idea for: Music Producers, Synth Lovers

Into studio gear, music production and or synths? Teenage Engineering Pocket Operators are the perfect portable synths, and the latest releases are both inspired by classic Capcom favourites.
The Teenage Engineering PO-133 gives you a Street Fighter Pocket Operator based on the popular PO-33. It's a micro sampler with 40 seconds of sample memory, as well as a built-in microphone for instant sampling. You'll also get 16 Street Fighter sound tracks as well as genuine samples from the original Street Fighter game by Capcom.
While the PO-128 is based on the PO-28; a live synthesizer and sequencer with parameter locks, glide control, as well as punch-in effects. It also comes packed with 16 Mega Man sound tracks based on the original video game.
You'll also find 15 sounds as well as a micro drum kit with 16 punch-in effects including; distortion, repeat, filters, fill-ins, glitches, and noise effects. The synthesizer parameters can be locked, while a 16-step sequencer holds 16 patterns in memory and can be chained up to 128 patterns.
Finally, you can even link multiple synthesizers together. If you know someone who loves all things synths, you can be sure they'll appreciate one of these
Rode Microphones
Rode Microphones are renowned for their professional microphones, along with their all-in one podcasting console, the RodeCaster Pro! So depending on who you're buying for, you can't go wrong with any of these Top 4 picks from Rode.
RodeCaster Pro
The RODE RodeCaster Pro is a revolutionary all-in-one studio production console. Bringing a new level of simplicity and professionalism to your podcast productions. So whether you're just starting out, or you're a seasoned broadcast professional; the RodeCaster PRO Podcast Production Console is all you'll need. Offering a unique set of features that are designed specifically for podcasting.
NT USB Mini
The RODE NT-USB Mini gives you a compact and easy to use, studio-quality USB Microphone. Delivering crystal-clear and professional audio directly to your computer or tablet. So it's the perfect USB mic for gamers, podcasters, musicians, streamers, and content creators.
Wireless Go
The RODE Wireless GO White is the world's smallest and most versatile digital wireless mic/receiver combination. A versatile wireless microphone system. The transmitter works as both a clip-on mic or as the world's smallest beltpack for a RØDE lavalier. Sending crystal clear broadcast-grade audio via 2.4GHz digital transmission to the ultra-compact on-camera receiver. Compact. Versatile. Ready when you are. Wireless GO White.
VideoMic NTG
The RODE VideoMic NTG is a broadcast-grade, feature-packed shotgun microphone. Optimized for on-camera use, the VideoMic NTG features the same revolutionary acoustic design as the NTG5 broadcast shotgun mic.
Pioneer DDJ-SB3-S
Great gift idea for: Beginner DJ's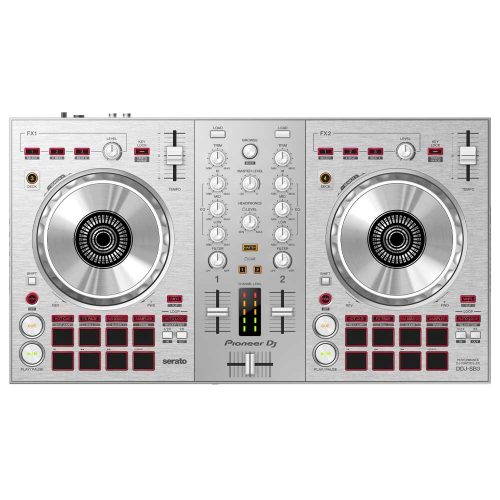 The Pioneer DDJ-SB3-S gives you a limited-edition and DJ City exclusive Silver version of the popular 2-Channel Serato DJ Controller. Boasting silver-coloured aluminum jog wheels along with a silver body to match! The DDJ-SB3 Silver is sure to bring a fresh look to any party!
The DDJSB3 Silver makes learning to DJ more accessible than ever for beginners looking to learn the craft. Bringing you an easy to navigate controller, featuring a professional-style layout inspired by the top DDJ-S range. Perfect for beginner DJs. Master Serato DJ Lite, and then when you're ready, purchase Serato DJ Pro to progress on the one machine.
Alternatively, the DDJ-400 is another great choice for beginners with a number of similar features including Rekordbox software rather than Serato.
To learn a little bit more about the SB3-S, check out our video below!
Reloop DJ Turntables
Great gift idea for: Vinyl DJs, Audiophiles

The aforementioned SB3 Silver is great for Digital DJ's and those getting started. But what about if you're buying for those who prefer the old fashioned analog way of doing it? Well, our Reloop DJ Turntables are the perfect choice!
Whether you're looking for a high end solution for playing your favourite records, or you're gearing up to battle. Reloop offer some of the best options on the market. Designed to cater to the high demands of professional DJs, as well as meet the needs of the most discerning audiophiles.
Our Reloop DJ turntable shipment is about 2 weeks away. So pre-order today and you should have them in time for Christmas!
Max Karaoke Microphones
Great gift idea for: Karaoke Lovers, Singers, Kids

The selection of Max Karaoke Microphones offers a range of colourful, all-in-one BT Microphone with a built-in speaker. As well as an upgraded version that offers a dazzling light show.
Simply plug in your USB stick or MicroSD card, or stream your favourite music and sing along!
It's also possible to connect the KM01 Karaoke microphone to your smartphone, tablet or PC through Bluetooth. So you can stream your favourite songs wirelessly with incredible ease. You can even record your voice directly to your smartphone to playback and listen to. Boasting a number of multifunctional buttons, the KM01 Karaoke Microphone allows for easy sound adjustments and volume settings. Including Treble, Bass, Volume and Recording. There's also vocal delay, echo and harmony effects to spice up your voice.
What's more, the KM01 Bluetooth Karaoke Microphone features noise compression technology. Effectively filtering airflow and wind noises so you can sing along with perfect clarity. The perfect gift for karaoke nights and your kids who can't stop singing!
View our entire range of Karaoke Microphones
Vonyx SBS50 Karaoke Speaker
Available in Black, White, and Pink, The Vonyx SBS50 is a wireless 50W Bluetooth speaker with LED party lights and an included microphone. An all-in-one solution, the SBS50 is sure to give atmosphere to any indoor space or party. Powered by a rechargeable lithium-ion battery, it's a portable Bluetooth speaker that you can use anywhere.
Supplied with an included wired microphone, you can instantly sing along to your favourite songs or use it to make announcements. There's even an adjustable echo effect on the SBS50 to give your vocals a nice effect! The perfect Christmas gift for any karaoke lover!
Fenton Record Players
Great gift idea for: Audiophiles, Record Collectors
Have you got an old vinyl collection lying around just waiting to be played? Or maybe you want to start a new record collection! Our Fenton record players combine style and affordability, with a range of options sure to please any music lover. With the classic briefcase option, as well as retro-styled options depending on your preference.
Taking a look at the popular RP115, a stylish record player with Bluetooth & USB connection embedded in a blue briefcase that will be a joyful addition to any house. With the lightweight case finished in blue leather, its a truly eye-catching player. But eye-catching or not, in the end, playing records is what it's supposed to do and that's what it does! With an auto-stop function, adjustable speeds, Bluetooth connectivity, a USB connection and AUX input, there is more hidden in this briefcase case than you could have imagined. And for under $100, you simply can't go wrong!
Audizio Digital Radios

Audizio offers a large selection of digital radios that will compliment any home or office. Taking a look at the Milan version, you're getting a compact and portable digital clock radio system with a built-in battery. Offering up to 10 hours of play time on a single charge. Featuring both FM and DAB+, you can listen to all your favourite radio stations in incredible quality.
What's more, the Milan Clock Radio sports a 2.4″ TFT Colour Display that's easy to read during the day, while back-lit for night time use. The Milan Clock Radio also features built-in Bluetooth technology, so you can play music directly from your smartphone or wireless device.
There's also a number of additional models with different aesthetics depending on your preference. With others offering features WiFi for Internet radio stations as well as bigger speakers for better sound!
Shop all Digital Clock Radios
Max GigKit Electric Guitar
The MAX GigKit Black Electric Guitar Pack gives you everything you need if you're learning to play guitar. Including a Stratocaster model guitar with 22 frets; 40 Watt amplifier; Clip-on digital tuner; a spare set of strings; tremolo arm; guitar strap; 2 x picks; and guitar cable. Available in Black, Red, Sunburst & White.
Boasting the world-famous Stratocaster design, the GigKit Black provides a comfortable playing feel. Combined with a powerful 40 Watt amplifier, this guitar kit will give you everything you need for clean guitar tones as well as classic rock.
Above all, the GigKit is the perfect value for money solution for beginners wanting to learn to play guitar.
Max ShowKit Acoustic Electric Guitar

Furthermore, the Max ShowKit gives you an electric-acoustic guitar pack for beginners. Not only will you get a steel-string acoustic guitar, but you'll also get a high-quality guitar amplifier. As well as a heavy-duty nylon carry bag; digital clip-on tuner; guitar picks; shoulder strap; and even a spare string set!
Perfect for any beginner guitar player, this electric acoustic guitar pack offers a wide range of features. Allowing you to play a variety of sounds that cover a plethora of music genres.
If you prefer classic acoustic, the SoloArt acoustic guitar is a great option and less than $100!
Alesis Recital & Recital Pro

We've just re-stocked on the Alesis RECITAL & RECITAL PRO 88 Key Digital Pianos. The Recital models are full-featured digital pianos with 88 full-sized, semi-weighted keys with adjustable touch response. It can be used as a teaching tool by both the student and teacher in educational environments, or at home as a practice instrument with that classic piano feel!
The Recital features 5 voices, while the Recital Pro features a whopping 12. You can then use your digital piano to combine two voices at once in Layer Mode, or assigned to the left or right hand in Split Mode. With built-in, powerful 20W speakers and 128-note maximum polyphony, the Alesis Recital delivers a realistic sound with a solid playing experience.