13th November, 2019
What Is The Best DJ Controller? A 2020 Buyers Guide By DJ City
What Are The Best DJ Controllers?
Jump to: | Best Beginner Choice | Best Premium Choice | Best Pocket Controller | Cheap DJ Controller/Best Value
With technology continuing to advance, the typical DJ setup has changed exponentially over the last few decades, and more and more DJ's are turning to DJ Controllers. Catapulting to the forefront of the industry, DJ Controllers are now often found in booths worldwide, even used by some of the world's best DJs. Converting even die-hard vinyl turntablists and CDJ users into religious users of the DJ Controller.
Originally seen as a purely convenient option for mobile DJs, DJ Controllers have now evolved into fully-fledged devices. Packing a host of features into flexible and portable control units while boasting incredible value for money. The fact that the typical DJ Controller combines decks and a mixer into one unit will save you thousands. Costing significantly less than CDJs, while even the most high-end controllers will give you more value for money than a vinyl turntable setup. Allowing DJs to take full control over their mixes and pull off some crazy sets!
The perfect solution for beginners, and even more competent DJs. However, with so many options available offering a range of different features and functionality, it can be hard to know which one to choose. So, in this article, we'll go over a few of the most popular DJ Controllers in 2020. Covering DJ controllers for beginners, all-rounders, pocket controllers, and premium choices.
What To Consider Before Buying A DJ Controller
Before choosing a DJ Controller, there are a few variables you need to consider. With controllers, your laptop acts as the processor while your controller acts as a sophisticated peripheral device, similar to your mouse or keyboard. Therefore, being that your DJ Controllers' primary function is to control the DJ software on your laptop or tablet, the first thing you need to consider is your software!

Software
The DJ software you use or intend to use with your DJ controller is extremely important, therefore should play a large part in choosing your next controller. This is because most DJ Controllers on the market come tailor-made for specific software.
And although many of today's controllers are cross-compatible, especially with software like Serato. Generally speaking, each DJ Controller comes complete with a copy of some DJ Software. So if you're just getting started, picking a controller that comes equipped with tailor-made software will not only make the learning curve easier but save you money as well!
To put it simply:
Pioneer Controllers use their native software in RekordBox.
Native Instruments Controllers uses their native software Traktor.
While most other manufacturers default to Serato
Alternatively, programs such as Virtual DJ, Mixxx, and even Ableton Live are also commonly used by DJs.
RekordBox
Originally using Serato with their DJ controllers, Pioneer DJ has greatly expanded their native RekordBox software. And given that Pioneer DJ manufactures the most popular controllers; RekordBox is now industry-standard. Packing all the features you'll need from DJ Software. Including time-stretching, great effects, track suggestion, full-customization and integration with other equipment such as the Pioneer CDJs.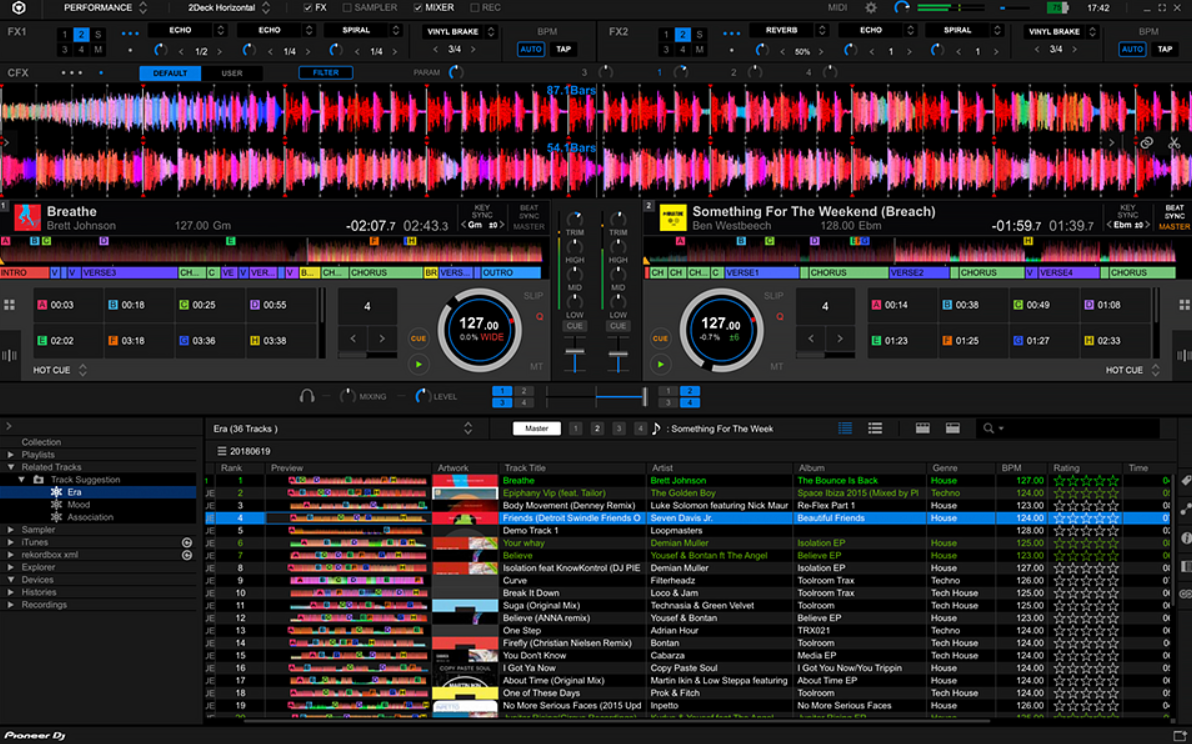 Traktor
Native Instruments original DJ software Traktor has been designed specifically for NI hardware. Notable features include the innovative remix deck feature; turning a deck into a 64-slot remix deck for mashing loops and samples. Boasting a range of external peripherals for Traktor, it's commonly the favoured software by producers.

Serato
Quite possibly the most popular and widely used DJ software, with support for over 90 pieces of hardware from the industry leaders. You'll find Serato is generally supplied with most controllers that aren't made by either Native Instruments or Pioneer DJ. Unlock your DJing potential with Serato's innovative features such as sampling, beat jump, cues, loops and loop rolls. While smoothing every mix off with its high-quality FX. You can even organize your music using their intuitive virtual crates, and use streaming services to access a wide range of music from underground sounds to classic hits!
I/O and Features
DJ Controllers vary with their included features and it's up to you to decide which ones are going to be important to your setup! Whether its how many channels you need; LCD Screens on the jog wheels; LED performance Pads for triggering loops, hot cues and FX; or just the amount of knobs and faders available.
Also important to consider is the inputs and outputs on your DJ Controller. Inputs allow you to connect other DJ decks to your controller, essentially allowing your controller to double up as a mixer as well. With extra inputs onboard you can then even connect your CDJs or vinyl decks. Outputs usually offer either 16-bit or 24-bit. 24-bit outputs are considered the pro benchmark and deliver higher quality sound when listening through large-scale sound systems.
Looks, Size, Build Quality and Price
When choosing your DJ Controller, I'd highly recommend choosing something that resonates with you upon the first impression. If it looks good, its also likely to offer intuitive controls, inspiring you to pick up your DJ Controller and continue to learn.
On top of that, you'll also need to consider the size of the controller. Whether you have the room to accommodate for a large-sized, pro-level control unit or you're looking for something more portable to take to your mobile DJ gigs. You'll even find pocket-sized DJ Controllers for the ultimate portability, perfect for bedroom DJs!
Finally, price and budget is something you'll have to consider as well. If you're just starting out, you'll likely not want to drop thousands on a professional controller. While if you're an intermediate level DJ and looking to upgrade, that might be on the cards.

So, what are the best DJ Controllers
With all that said and done, let's move on to what you came here for; the best DJ controllers of 2020!
Pioneer DDJ 1000 –
Premium Choice – RekordBox
The Pioneer DDJ 1000 is the DJ Controller that doesn't feel like a controller. Mirroring Pioneer DJ's flagship NxS2 club layout, the DDJ 1000 is a 4 channel controller engineered to make the most of the features offered by Rekordbox DJ. While also allowing an effortless transfer onto professional systems. Fluidly select tracks directly from your pioneer DDJ 1000 that you didn't consider compatible, thanks to the Rekordbox powerful related tracks feature. Taking the sweat and worry out of playing gigs.
Additionally, the jog wheels have been taken directly from the NXS2 players. Meaning they're not only full size but also sports tension adjustment. As well as featuring high definition LCD screens on each wheel, allowing you to keep your eyes intuitively on the deck. Enabling you to concentrate solely on your DDJ 1000 rather than your laptop. One of the common reasons DJ's have had a tendency to stay away from controllers in the past.
Perfect for both at-home practice, and as a fully-fledged mobile setup. The inclusion of 2 USB ports makes B2B playing easy and transitions smooth. While DVS compatibility with record-breaking low latency means you can scratch and juggle with ease. Plus, bring your creative flair to your performances with 14 Beat FX. While you trigger Hot Cues, Loops and more with the 16 multi-coloured performance pads. Perfecting your performances has never been easier with the DDJ 1000.
Features
DJ controller designed for comprehensive control over RekordBox DJ software (Mac/PC)
Based on Pioneer's NXS2 systems for a familiar layout and control scheme
LCD jog display shows you playback time, BPM, waveform, playback position, and Hot Cue and Loop points
14 Beat FX for adding depth and excitement to your mixes
Improved Magvel fader for even more durability and lower latency
Two USB ports for seamless DJ handoffs
16 multicolor performance pads for triggering Hot Cues, Pad FX, Beat Jump, and much more
Lightweight and portable for mobile DJs
Pioneer DJ DDJ-SB3
Beginner Choice – Serato
The Pioneer DJ DDJ-SB3 is perhaps the best Serato Controller for beginners. Combining popular features seen with the DDJ-SB2 together with leading Serato DJ Controllers; the DDJ-SB3 makes learning to DJ more accessible than ever. An easy to navigate controller, DDJ-SB3 features a professional-style layout inspired by the DDJ-S range. Aimed at beginner DJs, the DDJ-SB3 comes complete with Serato DJ Lite. So it's a great choice if you're looking to get started DJing with Serato.
With an added FX Fade feature, you can easily transition between tracks. While the Pad Scratch function lets you make great-sounding scratch effects without having to use turntables. Co-Developed by Jazzy Jeff, you can easily add scratch recordings with the touch of the pads.
Inheriting elements from the DDJ-S series, the DDJ-SB3 has all the functionality you need to get started; jog wheels, performance pads, play and cue buttons, independent Auto Loop buttons, and all knobs and fader positions arranged in an easy-to-reach way mimicking professional gear.
Features
A compact yet full-featured DJ controller that's perfect for mobile Serato DJ rigs
The 2-deck layout accommodates full 4-deck mixing for advanced performance
Large jog wheels and intuitively laid out controls keep your workflow clean
Rubber pads provide transport control, sampler access, cue triggers, and more
Instantly pull off DJ-style scratch techniques via Pad Scratch
Onboard filters and Filter Fade functions provide advanced mix options
Pad Trans and FX Fade functions provide additional smooth mixing effects
Built-in sound card includes all of the audio connections you need
Includes a free download of Serato DJ Lite
Traktor Kontrol S4 Mk3
Premium Choice – Traktor
Traktor Kontrol S4 MK3 is the latest version of the popular S4 controller. Delivering a high-end, 4-channel DJ Controller, that's fully compatible with the latest version of Traktor.
Re-designed from the ground up, the Kontrol S4 gives you the tools and response needed to take your sets to the next level. Juggle beats, fire off loops, add effects, and scratch with absolute confidence. Using either the included Traktor Pro 3 software or Native Instruments Traktor DJ iOS app. So whether you're remixing in the studio or performing live on stage, you'll be totally blown away by the Native Instrument Traktor Kontrol S4 MK3.
Features
A 4-deck digital DJ system that lets you DJ anywhere with your laptop
Plug-and-play integration with Native Instruments' Traktor Pro 3 (included) and Traktor DJ gets you up and running in no time
4 channels, each with a level fader, a 3-band EQ, a filter knob, a gain control, and 2 effects sends, give you all the mixing options you need
Scratch with ease using high-resolution, silicone-damped, touch-sensitive jog wheels with rubber-coated outer rim and glossy top plate
Dedicated Flux Mode controls make pulling off advanced mixing tricks even easier
Color-coded, backlit buttons give you valuable visual feedback
Patent-pending magnetic brake technology provides you with realistic analog-style control
Hardware and software work together at 30 times the resolution of standard MIDI for maximum precision
4-channel mixer with ergonomic layout puts every control you need right at your fingertips
Powerful MP3 management with iTunes integration and iPod compatibility
Fully customizable control surface works with any MIDI-controllable software
4-channel integrated audio interface with Cirrus-Logic AD/DA converters delivers up to 24-bit/96kHz resolution for pristine audio quality
BUY NOW: Native Instruments Traktor Kontrol S4 Mk3

Roland DJ-707M
Premium Choice – Serato
Recently released, the Roland DJ-707M is a fully-fledged Serato DJ controller offering everything you need as a Mobile DJ. As a Mobile DJ, not only do you play music, you're also the MC, sound tech, lighting designer, and sometimes the event organizer as well. This hefty workload means you're in need of equipment that supports much more than just mixing songs together. The Roland DJ-707M has an integrated live sound console, loudspeaker management system, and is a fully-fledged performance DJ controller. More than equipped to handle the demanding audio needs of working mobile DJs.
Features
Performance-focused DJ controller for Serato DJ Pro (software included)
Comprehensive controls let you command 4 decks within Serato DJ Pro
Flexible connectivity options include seven dedicated inputs and three assignable output sections
Dual XLR mic inputs with selectable effects including reverb, echo, auto-pitch, and anti-feedback
Highly visible LCD screen helps you navigate on dark stages
Dual USB connections for two separate computers, allowing for seamless DJ handoffs
Built-in grooves from TR drum machines allow you to fire off rhythmic accompaniment anytime
One-shot sound effects ready to spice up your set
Serato DVS-ready 24-bit/96kHz audio interface onboard (Serato DVS not included)
Can be used as a standalone mixer for media players or turntables connected to the audio inputs
MIDI output port allows you to sync external gear to your Serato session
Numark Party Mix
Best Value Beginner
The Numark PartyMix is the best value controller for beginners looking to get started with DJing! Connect directly to your laptop, then play and mix all of your favorite songs and videos with the included Virtual DJ LE software.
Mix, blend and create just the right mood with this 2-channel DJ controller, empowering you to rock the house. Preview your mix in your headphones before crossfading the music to your speakers like a pro! With Party Mix, you can manually sync the beat (or auto sync) and blend your songs with your playlist.
Finally, the Party Mix's built-in light-show will shower your room with beat synchronized and colorful light patterns. Creating the perfect party atmosphere!
Party DJ Control System
Built-in light show creates party atmosphere
Simple plug and play
Audio outputs for your speakers and headphone preview
Virtual DJ LE software included
Cool effects and multiple pad modes with looping and sampling
Sync buttons for easy mixing control
1/8-inch headphone jack to preview for cueing
Numark DJ2GO2 Touch
Best Pocket Controller
The Numark DJ2GO2 Touch brings you a portable, and pocket-sized DJ controller that you can take anywhere. Sporting capacitive touch jog wheels, the DJ2GO2 Touch gives you the ability to scratch. It's also equipped with a built-in sound card and Serato DJ intro, making it the smallest DJ controller around. Fitting on top of your laptop so you're ready for action in no time, without taking up any unnecessary space. Perfect for using for small gigs, prepping your gigs, and a great backup for those "just in case" moments. There are endless possibilities, but the biggest feature, you can go anywhere with DJ2GO2.
Capacitive touch jog wheels for scratching and mixing
Portable two-channel DJ controller for Serato DJ Lite (software included)
Stream millions of tracks within Serato DJ Lite from leading providers including SoundCloud and TIDAL
Built-in audio card with headphone cueing to create the perfect mix
Song navigation and channel and master gain control
Multiple Pad Modes with Cueing, Looping and sample triggers
Perfect for performing or prepping your DJ set playlist and cue points
Standard MIDI mapping for use with other popular DJ software
Fits perfectly on top of your laptop
1/8 inch headphone output
1/8 inch main output
The Final Say
In summary, there's no single best unit when it comes to DJ Controllers. Your level of expertise, budget, size-constraints, amount of features and desired DJ Software will all come into play when choosing a DJ Controller to suit you. The controllers listed above are all excellent choices depending on your requirements, and theres something to fill every gap in the market!
So whether you love the sleek design and reliable hardware from Pioneer DJ; drawn to the creative potential of the Native Instruments Traktor series; or simply value the lower price tag on the beginner Numark Controllers – It's hard to go wrong with any of these choices!
What's your favourite controller?
By Jamie Larcombe