4th January, 2021
What Is The Best DJ Controller in 2021? A DJ City Buyers Guide
Jump to: | Best Cheap DJ Controller | Best Beginner 2-Channel | Best Intermediate | Best Premium Controller | Best Traktor Controller | Best DJ Controller for Live Streaming | Best Standalone Controller
It's 2021, and the typical DJ setup continues to change! These days, most DJs have turned their backs on the traditional turntable setup, with DJ Controllers the weapon of choice for most. Offering convenience, versatility, and the ability to take them pretty much anywhere; even die-hard turntablists are beginning to convert!
No longer just a toy, these DJ Controllers pack in a massive amount of features while still boasting incredible value for money. Combining decks and a mixer into one, even the most advanced DJ Controllers will cost a fraction of the price of a club-standard CDJ & DJM or turntable setup. Therefore, giving you massive value for money and allowing you to take complete control over your sets!
So whether you're just starting out, offering your services as a mobile DJ, or traveling the world on the main stage; there's an option for you! But, with so many options available, it can be hard to know exactly which one to choose. So, in this article, we'll go over a few of the best current DJ Controllers in 2021. Covering DJ controllers for beginners, all-rounders, pocket controllers, and of course the premium choices!
What To Consider Before Buying A DJ Controller
Before choosing a DJ Controller, there are a few variables you need to consider. With most controllers, your laptop acts as the processor while your controller acts as a sophisticated peripheral device, similar to your mouse or keyboard. Therefore, being that your DJ Controllers' primary function is to control the DJ software on your laptop or tablet, the first thing you need to consider is your software!
Software
The DJ software you use or intend to use with your DJ controller is extremely important, therefore it's going to play a large part in choosing your next controller. That's because most DJ Controllers on the market come tailor-made for specific software.
And although there are a few which are cross-compatible; generally speaking, each DJ Controller comes tailored to a specific piece of DJ Software. So if you're just getting started, picking a controller that comes equipped with the software you intend to use in the long run will not only make the learning curve easier but save you money as well!
To put it simply:
Pioneer Controllers mostly use their native software in RekordBox. With some Serato options also available.
Native Instruments Controllers uses their native software Traktor.
Most other manufacturers default to Serato
Alternatively, programs such as DJay, Virtual DJ, Mixxx, and even Ableton Live are also commonly used by DJs.
RekordBox
Originally using Serato with their DJ controllers, Pioneer DJ has greatly expanded their native RekordBox software. And given that Pioneer DJ manufactures the most popular controllers; RekordBox is now industry-standard. Packing all the features you'll need from DJ Software. Including time-stretching, great effects, track suggestion, full-customization and integration with other equipment such as the Pioneer CDJs.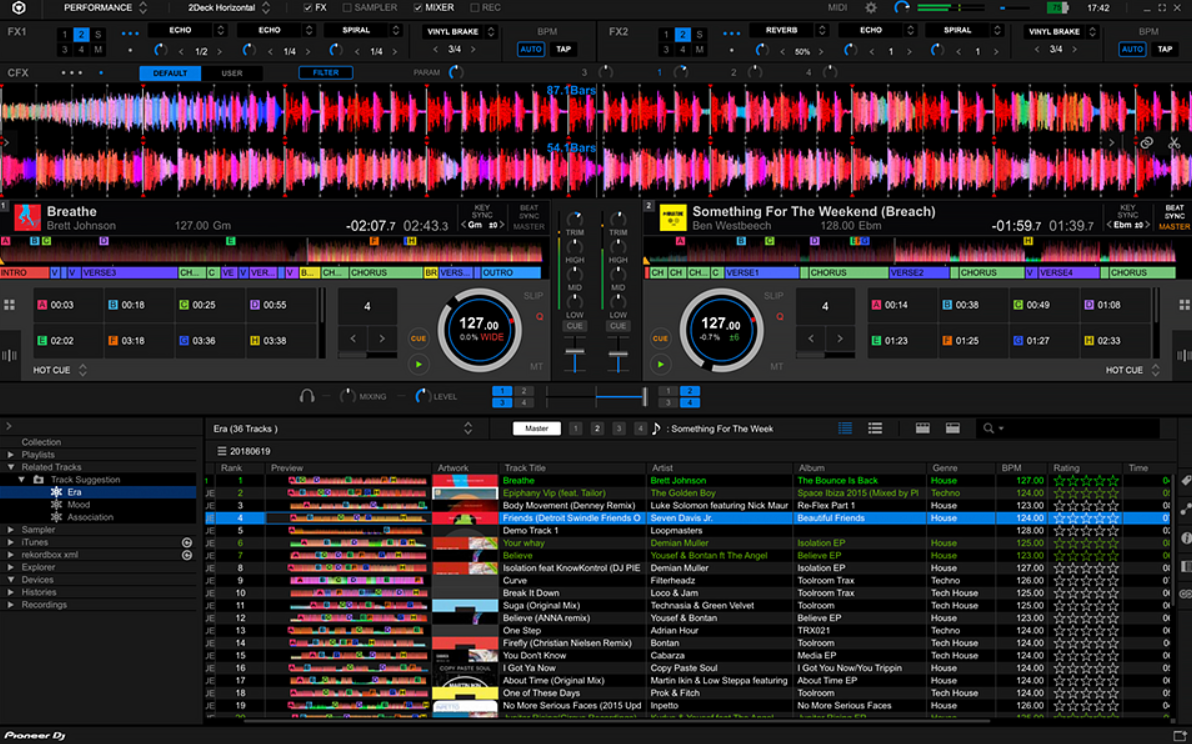 Traktor
Native Instruments original DJ software Traktor has been designed specifically for NI hardware. Notable features include the innovative remix deck feature; turning a deck into a 64-slot remix deck for mashing loops and samples. Boasting a range of external peripherals for Traktor, it's commonly the favoured software by producers.

Serato
Quite possibly the most popular and widely used DJ software, with support for over 90 pieces of hardware from the industry leaders. You'll find Serato is generally supplied with most controllers that aren't made by either Native Instruments or Pioneer DJ. Unlock your DJing potential with Serato's innovative features such as sampling, beat jump, cues, loops, and loop rolls. While smoothing every mix off with its high-quality FX. You can even organize your music using their intuitive virtual crates, and use streaming services to access a wide range of music from underground sounds to classic hits!
I/O and Features
DJ Controllers vary with their included features and it's up to you to decide which ones are going to be important to your setup! Whether its how many channels you need; LCD Screens on the jog wheels; LED performance Pads for triggering loops, hot cues and FX; or just the amount of knobs and faders available.
Also important to consider is the inputs and outputs on your DJ Controller. Inputs allow you to connect other DJ decks to your controller, essentially allowing your controller to double up as a mixer as well. With extra inputs onboard you can then even connect your CDJs or vinyl decks. Outputs usually offer either 16-bit or 24-bit. 24-bit outputs are considered the pro benchmark and deliver higher quality sound when listening through large-scale sound systems.
Looks, Size, Build Quality and Price
When choosing your DJ Controller, I'd highly recommend choosing something that resonates with you upon the first impression. If it looks good, its also likely to offer intuitive controls, inspiring you to pick up your DJ Controller and continue to learn.
On top of that, you'll also need to consider the size of the controller. Whether you have the room to accommodate for a large-sized, pro-level control unit or you're looking for something more portable to take to your mobile DJ gigs. You'll even find pocket-sized DJ Controllers for the ultimate portability, perfect for bedroom DJs!
Finally, price and budget is something you'll have to consider as well. If you're just starting out, you'll likely not want to drop thousands on a professional controller. While if you're an intermediate level DJ and looking to upgrade, that might be on the cards.
What are the Best DJ Controllers in 2021?
Best Value/Cheap DJ Controller – Reloop Buddy
You've never touched a DJ Controller before and you really don't want to spend too much money, but you also want something versatile and value for money. Or, maybe you are a more competent DJ and just want something really portable you can take anywhere that even works with your phone or tablet?
If either of those examples sound like you, then you'll love the Reloop Buddy! This two-channel controller designed for Algoriddims Djay Software not only works with your PC or Mac. But it's also compatible with iOS, iPad OS, and Android Devices. So you can truly DJ wherever you like!
Whether you're a beginner or someone more experienced, the Reloop Buddy gives you everything you need to take complete control of your mix. Boasting a number of powerful features including the new Neural Mix controls; the Buddy is extremely portable while not compromising on any functionality. Check out our video below where we dive in and explore everything the Buddy has on offer.
Best 2-Channel Beginner DJ Controller – Pioneer DDJ 400/DDJ SB3
You're a bedroom DJ and you're serious about learning the ropes. 9 times out of 10 you're going to want to start off with a 2-Channel Controller. This way, you'll have access to all the features you need to get started, without breaking the bank.
Some of the best options would have to be either the DDJ-400 or DDJ-SB3 by Pioneer DJ. Both really great options, these DJ Controllers offer a similar feature set, with one main difference. That is that the DDJ-400 is built for Pioneer's Rekordbox software, while the DDJ-SB3 is for Serato.
If you're someone with aspirations to hit the clubs and get behind the Pioneer CDJ-3000s, the DDJ-400 will help you best familiarise yourself with the industry standard. If you're more into Hip Hop and scratching, Serato and the built-in scratch pad mode might tickle your fancy that little bit more!
Best Intermediate Controller – Pioneer DDJ-FLX6
You've mastered your two-channel, you know what you're doing, and you're looking to take the next step into the world of 4-Channel DJ Controllers. That's where the DDJ-FLX6 comes in!
An affordable 4-Channel option, the DDJ-FLX6 is the obvious choice if you're moving from the DDJ-SB3 or DDJ-400 DJ Controller. It's also fully compatible with both Rekordbox and Serato DJ so it's a no-brainer no matter which software you use. The DDJ-FLX6 also features jog wheels the same size as the CDJ-3000s as well as some awesome new features. One being the new Merge FX button as well as Jog Cutter for easy scratching.
But bear in mind, it still only features RCA outputs for your speakers. So it's probably not the most versatile if you're starting to do shows and gigs on the road.
Best Premium DJ Controller – DDJ-1000 / DDJ-1000 SRT
The Pioneer DDJ 1000 is the DJ Controller that doesn't feel like a controller. Mirroring Pioneer DJ's flagship NxS2 club layout, the DDJ 1000 is a 4 channel controller engineered to make the most of the features offered by Rekordbox DJ. While also allowing an effortless transfer onto professional systems. Fluidly select tracks directly from your pioneer DDJ 1000 that you didn't consider compatible, thanks to the Rekordbox powerful related tracks feature. Taking the sweat and worry out of playing gigs.
Alternatively, if you're a Serato DJ user, the DDJ-1000SRT offers the same feature-packed controller in a Serato version.
Perfect for both at-home practice, and as a fully-fledged mobile setup. The inclusion of 2 USB ports makes B2B playing easy and transitions smooth. While DVS compatibility with record-breaking low latency means you can scratch and juggle with ease. Plus, bring your creative flair to your performances with 14 Beat FX. While you trigger Hot Cues, Loops, and more with the 16 multi-coloured performance pads.
Best DJ Controller for Traktor – Kontrol S4 Mk3
We've covered a few solutions for RekordBox and Serato DJ Pro. But what if you're a Traktor user? If that's the case, then you can't go past the Traktor Kontrol S4 MK3. The latest version of the popular S4 controller, this high-end, 4-channel DJ Controller is fully compatible with the latest version of Traktor..
Re-designed from the ground up, the Kontrol S4 gives you the tools and response needed to take your sets to the next level. Juggle beats, fire off loops, add effects, and scratch with absolute confidence. Using either the included Traktor Pro 3 software or Native Instruments Traktor DJ iOS app. So whether you're remixing in the studio or performing live on stage, you'll be totally blown away by the Native Instrument Traktor Kontrol S4 MK3.
Best Standalone DJ Controller – Denon DJ Prime 4
You're a Professional/Wedding/Mobile DJ and you're constantly on the road playing gigs. Maybe you're also sick of having to travel with and hook up your laptop to play your tunes? That's where the Prime 4 standalone DJ controller comes in!
So far unbeatable in this realm, the Prime 4 takes the cake when it comes to standalone. Where do you start with this thing? boasting a massive 10″ HD touch-screen it's never been easier to cue up your next track. Read straight from one of the 4 USB slots, or install your hard drive directly onto the device! It's incredibly fast, heavy-duty, and also gives you the option of streaming straight from services such as Tidal. Not to mention, the audio quality is top-notch with incredibly responsive and touch-capacitive jog wheels.
In saying that, if you're a Pioneer DJ fanboy, you're not out of luck. You'll find some really great Pioneer DJ All In One DJ systems such as the 4-Channel XDJ-XZ. As well as the 2-Channel XDJ-RR and XDJ-RX2.
Best DJ Controller for Live Streaming – Roland DJ-707M
2020 is finally in the books and COVID-19 made it feel like it was never going to end! It was also responsible for a surge in DJ live-streaming that you might've never imagined. But it doesn't look like it's going away any time soon! So if you're a DJ looking to maximize on the potential of live streaming, the DJ-707M is going to help you do just that. Especially if you're rocking an iOS device!
The Final Say
In summary, there's no single best unit when it comes to DJ Controllers. Your level of expertise, budget, size-constraints, amount of features, and desired DJ Software will all come into play when choosing a DJ Controller to suit you. The controllers listed above are all excellent choices depending on your requirements, and there's something to fill every gap in the market!
So whether you love the sleek design and reliable hardware from Pioneer DJ; the creative potential of the Native Instruments Traktor series; or simply value the lower price tag on Reloop Buddy – It's hard to go wrong with any of these choices!
What's your favourite controller?