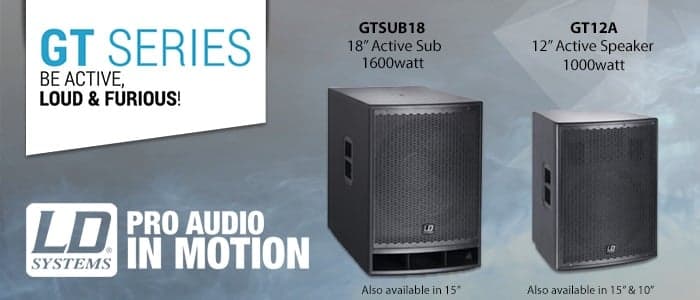 24th June, 2016
LD Systems GT PA Speaker Series
LD Systems GT PA Speaker Series
LD GT Series All new to Australia from the technological audio geniuses that are LD Systems, is the PA solution you have been dreaming about. Did you say you needed reliability, power and clarity? Well here at DJ City, that is basically how we spell LD Systems. The new GT series of professional PA speakers has hit our shores running, and for good reason.
This exciting new range introduces 5 quality boxes designed and engineered by LD to the highest standard so as to provide you with a deep, rich soundscape in a surrounding that not only enhances the sound clarity but also resonates beautifully through the sturdy wooden frame.
With two options of sub size (15″ or 18″) both boasting a huge 1600W of Peak power each, you're sure to find the right fit for you. Pairing these bass beasts with their higher frequency brothers, puts you behind one of the best sounding PA's you will ever here in their price range.
Each speaker features low frequency transducers and Celestion compression drivers, powered by state-of-the-art Digital D-Class amplifiers providing you with incredible sound reinforcement in an efficiently weighted unit.
For a demo and further info, talk to one of the friendly staff members at your closest DJ City store!