13th August, 2021
How To: Create A Professional DJ Booth From IKEA Parts
Lets talk building a DJ Booth from IKEA parts! When it comes to getting yourself kitted out and geared up as a professional DJ, a lot of time, money and effort goes into getting high quality turntables, audio equipment like speakers, laptops and other gear.
What many DJs forget is to spend some time (and allocate some budget) towards getting set up with a professional DJ booth. It's especially important to consider your DJ set-up if you're going to be mixing, producing and practicing around at home.
Fortunately, getting yourself hooked up with a good quality, professional level and practical DJ booth is pretty easy. Using readily available parts and products from Ikea, you can assemble your very own booth for just over $200.

Benefits of an Ikea DJ Booth
Easy to build
Ikea is famous for being super simple furniture to assemble. Your DJ booth is no different. While there's slightly more complication in this build because we're mixing and matching a couple different products and pieces, it's still easy enough that anyone can do it, no matter how handy you are or are not.
Affordable
DJ equipment can be very expensive. Audio equipment, computers, speakers, turntables… You'll want to save money when and where you can. With a DJ booth from Ikea it's easier to save some extra dollars without having to compromise on the aesthetic of the booth, its functionality or its practicality for use in your various DJ activities.
Looks great
The other fantastic feature of Ikea furniture is that it looks aesthetically appealing. The slick design of the various shelving units and pieces will help you keep up an important appearance of professionalism.
No special equipment needed
The DJ booth we've outlined in this article isn't just easy and quick to assemble, it also doesn't require you to go out and buy any additional tools to put it together. With nothing more than a screwdriver or drill, you'll be able to put the entire DJ booth together with ease.
Assembling the DJ Booth
Shelving Unit
Kallax
The main section of your DJ booth will be the Kallax series of shelving units from Ikea. This popular piece of furniture is both simplistic in design and yet still comprehensive in the amount of storage it offers. It's sturdy enough to hold the various shelves and equipment you need, while slim enough that it won't take up your entire home studio. If one Kallax shelving unit isn't big enough for you or doesn't provide adequate storage, it's easy to extend it. Just buy two shelves and screw them together for extra stability.
Kallax shelving specifications
Width: Approximately 30.5 inches.
Depth: Approximately 15.5 inches.
Height: Approximately 58 inches.
Maximum weight for the shelf: 29 pounds.
Cost: $50.00
Legs For Height
Capita
An excellent way to adapt and extend the height of your DJ booth is by incorporating four Capita legs from Ikea. By mounting each of the legs in the corners of the top of the shelving unit you'll be able to add height to the top of the booth and place an additional shelf on that.
These 8-centimeter long stainless steel legs are high quality and durable, providing much-needed strength and sturdiness to keep your equipment up and straight. Of course, they do not have unlimited carrying capacity, so don't overload the shelf you place on top of them.
Cost: $20.00
How High Is Too High?
DJs stand and play for extended periods of time, so it's very important your booth is set at the right height for comfortable and ergonomic use. It's recommended that your body and back are straight when standing at the booth with your shoulders back. Your spine should be straight up and your elbows forming a right angle when you're using your turntables or laptop.
Legs At The Bottom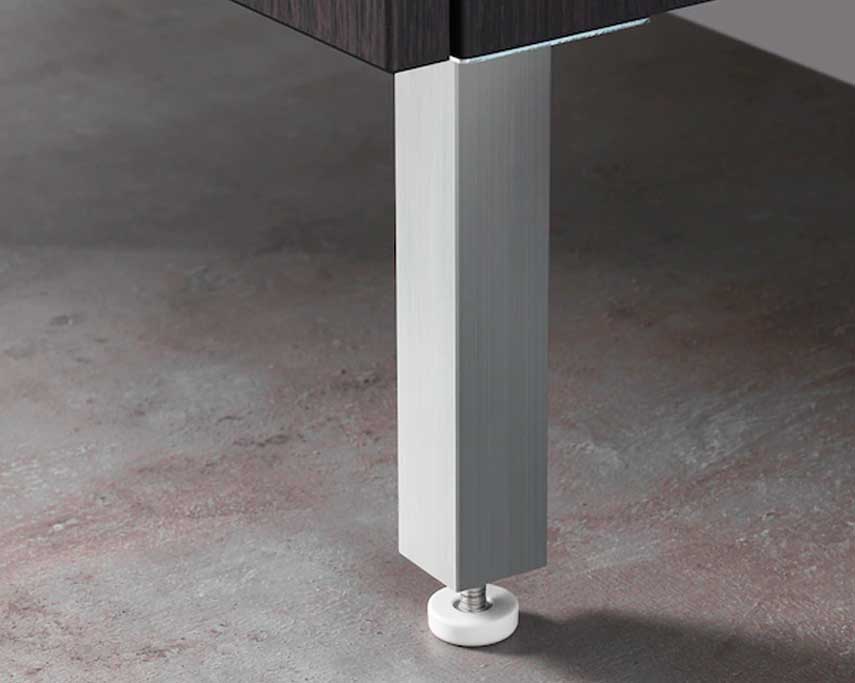 Lillången
There are a few reasons why you might want to add some Ikea legs to the bottom of your shelving. For one, you might need extra height and the Lillången legs are excellent for lifting your booth that little bit more (not to mention the fact that they're adjustable). Another benefit is that it helps to lift your shelving off the floor and away from potential moisture damage.
The Lillången legs are made from stainless steel for strength, sturdiness and durability but with plastic capped beed so you don't have to worry about scratches against wooden or other impressionable floors.
Cost: $20.00
Tabletop shelf
Linnmon
The Linnmon tabletop makes for a perfect, affordable and sturdy shelf to sit atop the Capita legs and serve as a perfect resting place for your various DJ equipment. While carefully assembled, the Linnmon is excellent for holding your turntables, be wary of the weight capabilities and don't overburden it.
In addition to coming in a variety of colours (though the prices also vary with the different colours), they also come with a variety of pre-drilled leg holes for simple assembly.
Linmonn shelf specifications:
Length: Approximately 30.5 inches.
Width: Approximately 23.5 inches.
Thickness: 1.5 inches
Maximum weight load:110 pounds.
Cost: $18.99
Extras For Your DJ Booth
Klyket Hooks
Hooks are very useful, especially when you're busy working on your turntables. Whether you're hanging headphones or a hat, there are a ton of reasons why having a hook or two is the perfect addition to your booth.
The Klyket Folding Hook comes in two options, aluminium and beige, and are super easy to attach to the side of your DJ booth.
Of course, an additional benefit to the Klyket is the fact that it folds neatly away when not in use keeping your booth streamlined and sleek.
For just $6.99 you can get a pack of three different hooks which makes them really great value for money.
If the particulars of the Klyket Folding Hook doesn't perfectly match your preferences or needs, there are a range of other options and styles of hooks available at Ikea.
Lack Wall Shelf
If you want to add another shelf to your DJ booth, the Lack wall shelf is an excellent option. You can keep extra speakers on the same level as each other with the extra surface space, which is especially important for maintaining the high quality of sound.
You can even use Capita legs in the straight or angular versions depending on what works best for you.
Cost: $19.99
Legs For Extra Strength
As mentioned above, it's important not to overload your shelf with heavy equipment. If you need some extra strength to support extra weight, the stainless steel Godmorgon legs are a good option. Plus, with adjustable heights, you can extend the Godmorgon anywhere from 5 inches to 9 and a half.
Price: $10.00
Construction Tips
Some quick advice for drilling in the Godmorgon legs.
Use washes when tightening the bolt and a wrench to screw it on tight. While twisting it firmly into place is important, if you make it too tight you could damage the wood beneath.
Take your time when adding them to your shelf and mark the placement of the legs with a pencil so you know exactly where to put them.
Remember that the Kallax shelf has a column placed right in the middle, so you won't want to drill a hole and bolt the leg dead in the middle.
LED Lighting
Adding lighting to your DJ booth is both functional and fashionable. This striking design choice can really bring a booth set-up to life. The Dioder from Ikea comes in four pieces and has a series of LED lights conveniently arrayed in a strip.
Where and how you want to incorporate it in your booth is up to you. Place them on the underside of a shelf, or along the edge, it's completely up to you.
On a practical note, because this light arrangement is made of LEDs, the lights use up to 85% less energy and last around 20 times longer than regular incandescent bulbs.
Cost: $24.99.
Total IKEA DJ Booth Cost
Kallax Shelving Unit x 2 $50.00 x 2 = $100.00
Capita Legs $20.00
Lillången Legs $20.00
Linnmon Table Top $18.99
Klyket Hooks $6.99
Lack Wall Shelf $19.99
Godmorgon Legs $10.00
LED Lighting $24.99
Total: $220.96
As you can see, even if you're including the prices for all the different leg options, extra customizable accessories and purchase two Kallax shelves, this Ikea-sourced DJ booth is still extremely affordable and excellent value for money. Plus, this is just one example, there are hundreds of different solutions you can use at Ikea like the setup below which uses the MALM Dressing Table.
Finishing Touches
In addition to adding shelves, extra shelving units, lightings and hooks, there are a couple of other ways in which you can really make the most of your Ikea DJ booth. Here are some ideas for adding that perfect finishing touch to your music station.
Add extra legs to increase the weight-bearing capacity and further strengthen the entire structure.
Take a minute to think about your preferred structure and equipment set up. You might prefer multiple smaller shelves, or one large shelf to hold everything. It's completely up to you and should work to enhance your music making activity.
Use velcro ties to keep the various cables from your equipment hidden from view. This way, you'll not only be operating in a streamlined, clean environment, but you'll be emphasising the minimalist and sleekness of your visually impressive Ikea design.
Play around with the way in which you use the shelves of your Kallax unit. Storing records, extra equipment or even dark storage boxes with a hole cut out for sneakily stored cables are all excellent uses for such a versatile piece of furniture.
Enjoy Your DJ Booth
There you have it: an affordable, practical, and excellent-looking DJ booth to cater for all your music mixing needs. In addition to being fair priced and reasonably durable, Ikea products are easy to assemble, source and customise to suit your particular preferences.
Have fun, build with care and enjoy making music!