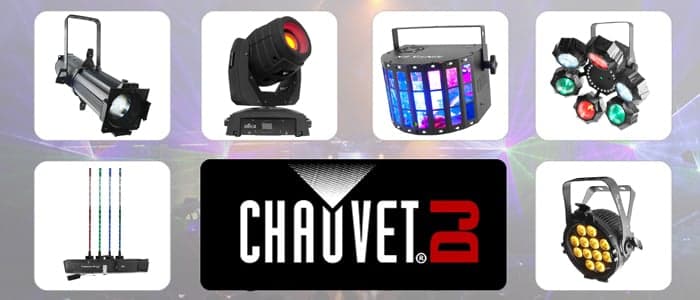 8th June, 2016
New Chauvet DJ Lighting Products
What New Chauvet DJ Lighting Products
The new Chauvet DJ Lights that have been added to the Chauvet Family are here and it's about time we did a blog about it. Chauvet DJ have been making a path leading lighting in a new direction with the new light that are coming to our shores like moths to a flame.
The Freedom Stick is a completely wireless LED strip bar with a built in lithium ion battery and a built in wireless D-FI transceiver allowing the Freedom stick to connect to your D-FI receiver for full DMX control. The Freedom stick has built in Automated and Sound activated settings as well as DMX control.
The EVE-E100Z is the most powerful LED Profile Spot that Chauvet DJ sells. The EVE-E100Z has an astounding 1 x 100Watt Warm White LED peaking at 3800 lux at 2 meters. The EVE-E100Z has a manual zoom angel of 14° to 30° allowing your gobo to be enlarged or shrunk to the size you need.
The Intimidator Spot 355 with its 90Watt White LED is the best option for installs for discos, parties, large events and more. The Intimidator Spot 355 has an eight colour wheel allowing you to use more than just one colour with the 7 built in gobos.
The MiniKinta-FX is a very affordable DJ Party light with three different built in effects. the MiniKinta-FX is an LED Multi Effect light including a strobe, a laser, and a  a butterfly effect. The MiniKinta-FX has 16 built in white SMD Strobes as well as 4 RGBW LEDs used in the butterfly effect. On top of these 2 effects the MiniKinta-FX also has a Red 100mW and Green 30mW built in laser.
The Beamer6 is a new type of light that has 6 powerful 5 Watt Red, Green, Blue, and White which are able to be positioned the way you want. The Beamer6 has 24 SMD White LED Strobes and a 100 mW Red laser and a 30 mW Green Laser.
The SlimparPro W USB is a low profile White LED Parcan with white, cool white, and warm white variable options. Perfect for staging performances, restaurants, and plays the SlimparPro W USB has 6 x 12 watt LEDs at 3097 Lux at 2 meters.